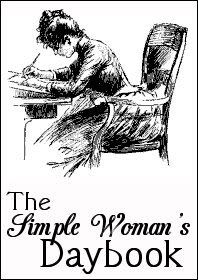 FOR TODAY, August 30, 2009 ...



Outside My Window...

Rainy...cloudy. *shiver* COLD! =D

I am thankful for...
That my dad and brother got to Colorado safely. =D
From the kitchen...
Nothing much. Mom doing something. =D


I am wearing...
Pink shirt and pajama pants....I slept in this morning. =D

I am creating...
Uuuuumm....hopefully a picture of a fictional character known as Thomas. *glances at Earwen smiling*

I am going...
NOWHERE! Thank goodness! =D

I am reading...
My Bible.
I am hoping...
To get some stuff done today on the computer that I've been meaning to do for a while now. =D
I am hearing...
Music. I've got my headphones on and am listening to music from another playlist. =D (Numa numa!:)

Around the house...
CCCCLLLLEEEAAAAANNNN!!! YAY!

One of my favorite things...
My sketch book. *pats it fondly*

A Few Plans For The Rest Of The Week...
Don't really know. Go pick up dad and Nate from the airp
ort to
morrow, is one thing.
Here is picture tho
ugh
t I am sharing...(I'll warn you.........)